Health investors from the United States are discovering vast prospects in Toronto as a hot-spot for biotech innovation and a place to invest in cutting-edge life sciences startups.
To Jerel Davis, managing director of Versant Ventures, the global venture capital firm behind recent landmark deals in the city, "Toronto is pretty remarkable," as a "completely under-tapped" market with strengths in fields ranging from regenerative medicine and oncology to heart disease, children's health, radio medicine and imaging.
"The opportunity is huge," he says, noting that U.S. capital and large pharmaceutical companies are attracted by Toronto's capacities "across the board" in science and healthcare delivery. "There's a very strong cluster of hospitals and research institutes in a very concentrated area. Many of them are top in North America, if not the world."
The ease of access to those capacities is equally exciting, he says, with lower competition in the emerging ecosystem allowing VCs "willing to do the hard work and roll up their sleeves" to tap into fundamental science, working with the best academics in their fields.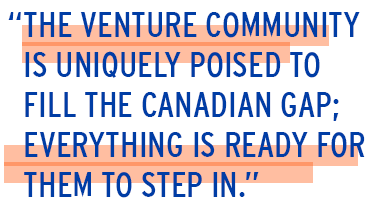 One indication of the growing interest in Canada's healthcare scene is the number of investors drawn to the annual Redefining Early Stage Investments (RESI) on MaRS conference. The largest health investor event in Canada, it is set to take place on April 4 (followed by the MaRS HealthKick Challenge on April 5).
Davis attended last year's event and says it allows VCs to quickly scout and assess top Canadian health companies. "It brings together in one room all the key players driving innovation in the health sector — VCs, angels, startups, academics and corporates — and facilitates finding the most disruptive ideas."
Recent data on venture capital investments in the sector also point to increased momentum. According to CB Insights, VCs invested over $596 million in Canadian life-sciences companies in 2016, the most on record in a single year and almost 100 per cent higher than all of 2014.
Multinationals joining the Canadian health scene include Bayer, Celgene, Johnson & Johnson and Novartis, Davis says: "The list goes on and on and on." Versant was involved in one of the biggest deals to take place in 2016 — the second-largest initial investment in a startup in the history of the biotechnology industry — joining Bayer to invest $225 million U.S. to create BlueRock Therapeutics, a new company with significant operations at MaRS that will commercialize regenerative medicines from stem cell research.
Davis says that MaRS "serves as an important beacon," from its critical development infrastructure to introducing foreign investors to the Toronto scene. In fact, since the Versant-Bayer deal last December, two other big announcements involving Toronto-based health startups in the MaRS network have been made: Highland Therapeutics raised $200 million to shake up the multi-billion dollar ADHD drug market; and Meta, a startup that provides an AI-powered search engine for researchers and doctors, was the first purchase made by the Chan Zuckerberg Initiative for an undisclosed amount.

Mary Haak-Frendscho, a venture partner at Versant and CEO of Blueline Bioscience, which is also based at MaRS and acts as the Canadian discovery engine for Versant, says that "MaRS is the centre of the hub and a key component of the ecosystem…You have everything right there, you have the entrepreneurs, you have the science, you have the clinical research for translation.
"The venture community is uniquely poised to fill the Canadian gap; everything is ready for them to step in," Haak-Frendscho says, pointing out that pharmaceutical companies are also increasingly involved. The recent increase in the size of investments in the Toronto market reflects the quality of science and innovation in fields such as regenerative medicine and neurosciences.
"I'm sensing a turning point here and it's pretty exciting," she says. "There are cool things going on in Canada, in Toronto. When you have solid deal flow that is at a globally competitive level, people pay attention."
Toronto is a test-bed for new business models that bring together VCs and big pharma to pool investments that speed up development. Davis says these include a "build-to-buy" approach, where partners help originate companies with an option to acquire them, while "other creative options continue to emerge," including approaches where pharmaceutical companies like Celgene move in earlier to get access to technology and "bold collaborations" like the BlueRock deal.
"We want to accelerate innovation," he says, adding that Toronto is an "obvious hub" in which to do it.