MaRS Magazine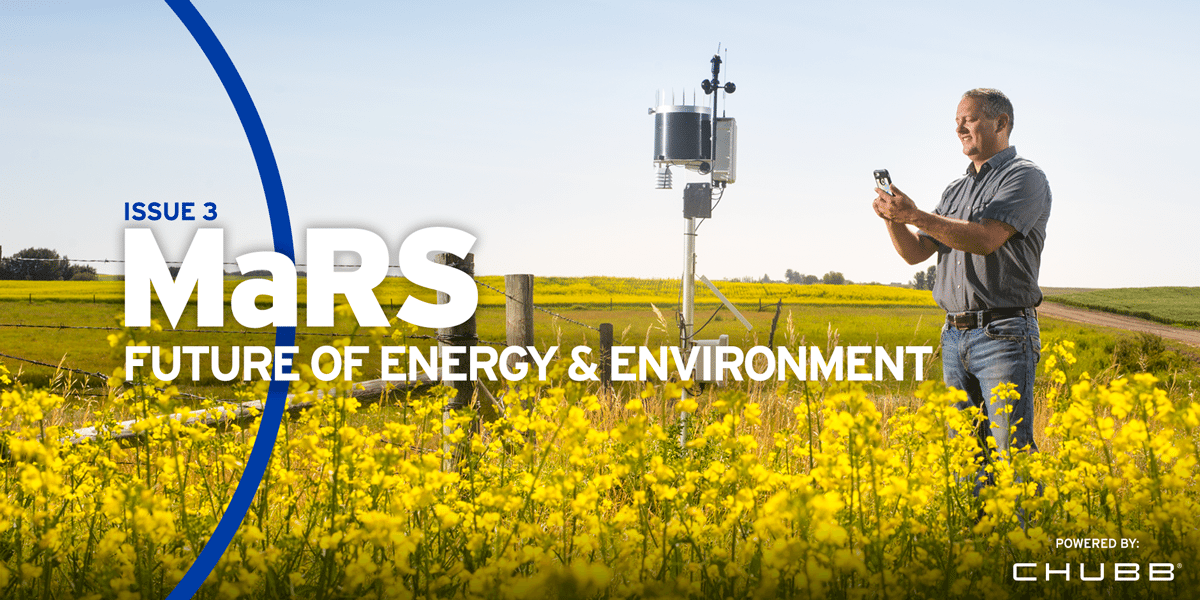 MaRS is a journal conceived to reflect the creative spirit of our urban innovation hub.
Each issue examines new ways of thinking and new ways of doing things, highlighting the latest in scientific research and technological advancements across MaRS's key areas of focus: health; work & learning; energy & environment; and finance & commerce. MaRS showcases a range of thought leaders, each with deep knowledge about the latest trends and the most pressing societal challenges, as well as much sought-after expertise in the business of innovation.
Issue 3: Future of Energy & Environment

Canada's greenest moonshots: From remote-control farming to hydrogen fuel-cell-powered trains
As climate change pummels our planet, unleashing everything from baking drought to raging hurricanes, Canada's cleantech entrepreneurs are seizing opportunities where others see only threats. Their solutions are ubiquitous, reaching beyond alternative energy and green transit to touch almost every part of our lives.
In this issue of MaRS, you'll read about technologies that help farmers increase yields and feed our growing population, and innovative ways of turning waste plastic into products that can pave our roads and feed our imaginations. These entrepreneurs are also putting our power-hungry Internet on an energy diet, repurposing cutting-edge tech from Canada's golden age of telecom to make sure we use less power as we consume more data.
And if you thought their numbers were small, think again. Canadian cleantech companies outnumber those in both the aerospace and automotive industries, and employ more people than the forestry, pharmaceutical or medical device sectors. With a climate change denier in the Oval Office, these innovators are poised to clean up in the U.S. market, spurred by a Canadian government determined to see them succeed.
What's inside?
Greening the Fleet: Driving efficiency in the heavy transportation sector
We are drowning in plastic waste. Can technology save us?
Putting the Internet on an energy diet
Canadian cleantech's Trump dividend
And more!
Read the first article the Toronto Star
Past Issues
This issue of MaRS features some of the most innovative solutions to some of our biggest health challenges. Learn about new technologies that help doctors diagnose conditions faster and with greater accuracy, and devices that veer into Star Trek territory, detecting adverse drug interactions before patients even show symptoms. The innovators featured are also arming employers with tools that keep their employees healthy — and out of the doctor's office in the first place.
Read it online | Download the PDF
---
The theme of work & learning touches everyone's life in some way, whether you're a student preparing to enter the job market, an employee navigating a changing workplace or a corporate leader looking to change company culture. The inaugural issue of MaRS highlights the changing world of work, showcasing some of the MaRS Work & Learning entrepreneurs who are delivering solutions to meet the needs of today's workforce, and also includes insights from Krista Jones, head of Work and Learning at MaRS.