Sustainability at MaRS
Since its inception in 2005, MaRS has consistently taken steps to manage and minimize our environmental footprint. We are committed to continually reducing consumption and waste in our building facilities and operations where possible to strengthen the vitality of our local community.
 The MaRS Centre and West Tower
MaRS' extensive recycling program includes tenant participation. Organics are separated at the source and cardboard, paper bottles and cans and laboratory plastics are all recycled. Food court retailers and catering contractors also recycle.
MaRS' building automation and central air handling systems include a heat recovery wheel to recover waste heat from building exhaust.
MaRS has an extensive lighting control system that automates lighting after hours and when suites are not in use. We are currently auditioning LED lighting in select areas to determine suitability for future retrofits. In 2014, we  installed LED lighting in select areas to reduce energy use. All heritage elevators now have 8-6watt LED's which have replaced 20-50 watt incandescent light bulbs.
The MaRS Centre and our partners use environmentally friendly (biodegradable ammonia-free and phosphate-free) cleaning products.
MaRS' Collaboration Centre meeting rooms, lower concourse and atrium feature natural light.
MaRS uses an innovative carpet maintenance program that requires 319% less hydro and 95% less water consumption compared to extraction cleaning.
MaRS has performed a top-to-bottom energy audit and identified areas where we can reduce energy use.
MaRS has organzied organic waste bin pick up for all tenant suites.
Additional bike parking and bike locking posts have been installed on College and Elizabeth streets, as well as in the West Tower.
The West Tower is LEED Gold certified.
The Collaboration Centre
MaRS prefers not to use or serve bottled water whenever possible.
MaRS' catering partners purchase carbon-offsets through CarbonZero for their entire fleets of vehicles.
MaRS Collaboration Centre caterers use seasonal, regional cuisine wherever possible.
MaRS' catering partners serve top-rated local wines.
MaRS' kitchens are equipped with state-of-the-art energy efficient ventilation systems, quick recovery, low energy use hot water tanks and compact fluorescent lighting.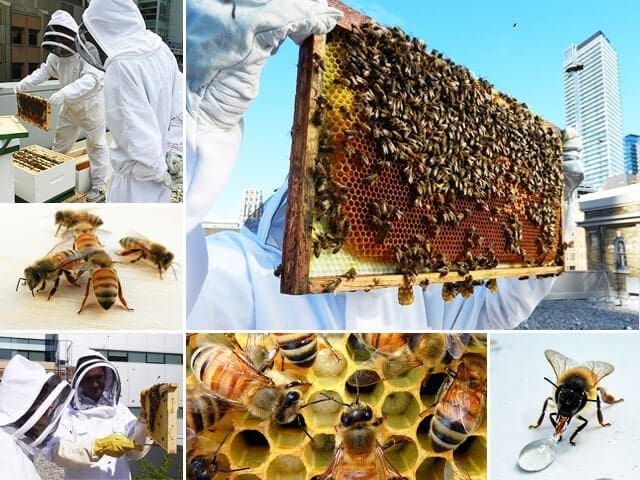 Sustainability initiatives
MaRS employees maintain the Bee Project on the MaRS rooftop to raise awareness of the role bees play in food sustainability and ecosystems. In July 2012, beehives were installed on the east roof of 101 College Street, four storeys above ground level. These hives host two independent colonies with approximately 50,000 honeybees each in the summer months and roughly 20,000 bees in the winter months.
MaRS is the lead developer of the Discovery District Energy Plan, a plan to significantly reduce energy consumption and source more efficient electricity through district-wide energy solutions.
MaRS offers direct access to the TTC at Queen's Park subway station, a streetcar stop just outside the building, and has underground bike racks available to tenants.