Customer Development Immersive
Learn to talk with your customers.
The quickest way a venture fails is by thinking only about itself. The reality is that it is not about you. It is all about your customer and their problem. It is all about your customer and their problem.
The Customer Development Immersive (CDI) addresses a core challenge we see founders having—talking with customers. We present a process that allows you to:
Develop products through learning directly about the needs of your target customers.
Understand how to engage them.
If you do this right, you'll be able to build a solid and validated value proposition. And you'll know to never stop talking with your customers.
March 12, 2018
Next cohort starts
March 13, 2018
Registration closes
GET STARTED
---
Learn to build products that meet the needs of your customers and allow you to get, keep and grow your startup.
Gain foundational knowledge about your customers.
Learn how to capture the problem from your customer's perspective—before you design your solution.
Learn to use the Customer Development Model.
Once you've learned it, you'll continue to use this methodology throughout your businesses development.
Build your product with your customer.
Strengthen your business by working with your customers and understanding how to address their needs in what you build.
Get, keep and grow customers with a researched & validated value proposition.
As the heart of your business model, your value proposition defines what you do, who you do it for and how this differs from your competitors.
I WANT TO ENROLL
---
What to expect
Through online lessons, regular Zoom meetings, discussions and interactive activities, this 31-day course is designed to deliver a well-rounded understanding of conducting customer interviews, analyzing this research and making sense of the market problem.
Learn anywhere, on your time

Each week, you'll use our workbook, view a series of videos and complete projects through our online platform. Accessible anytime, anywhere.

Learn from other entrepreneurs

We invite you to join our professional community of entrepreneurs and mentors on Slack and (soon) our online live calls on Zoom.
---
Meet our instructors
Chris Giantsopoulos, COO & Founder, PayUp Jack; Venture Facilitator, MaRS Discovery District
Passionate and energetic, Chris works as a venture facilitator at MaRS and has taught thousands of entrepreneurs across Ontario and the east coast, in universities, colleges and regional innovation centres. Earlier in his career, Chris was a leader at the BMO Institute for Learning, heading up several international training teams. Chris later co-founded and was CEO of QuickEnrollment Inc., a successful fintech online registration company targeted at amateur sports across Canada. He is currently in the process of launching his next fintech venture, PayUp Jack.
Read his full bio here.
LinkedIn: Chris Giantsopoulos
---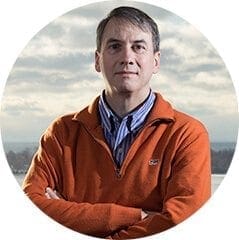 David Bowden, Senior Cleantech Advisor & Venture Facilitator, MaRS Discovery District
David divides his time between MaRS, where he is an entrepreneurship educator and senior business advisor for cleantech ventures, and the Osborne Group, where he is a principal specializing in strategic growth management. David has held various executive roles, including as president of Sprint Canada, SVP at Direct Energy and founding president of Empori.com. He is a governor of the University of Toronto and a director of the Bata Museum. In 2013, David completed the NFP program at the Institute for Corporate Directors (ICD).
Read his full bio here.
LinkedIn: David Bowden
---
Here's how to get the most out of this course:
Come prepared to the Zoom sessions: Complete the workbook activities ahead of each session. While you do this, note down any questions you'd like to ask or insights you'd like to share.
Engage: Participate, ask questions, share what you're learning. What sets CDI apart from a collection of videos is your active engagement in the course.
Connect: Get to know others in the course and help them get to know you. Find out why they enrolled and get in touch!
Set a goal: Be clear on what you aim to get out of this course.
Plan ahead: Schedule time in your calendar to do the work: prep, Zoom and workbook exercises.
---
Frequently asked questions
Is the Customer Development Immersive (CDI) a free course?
CDI is a free course for any member or client of a Regional Innovation Centre.
How is it structured?
CDI is a 31-day online hybrid course. Each week, you'll complete a set of lessons and exercises and have an opportunity to interact with course instructors and other founders. You are expected to go out and conduct at least 10 customer problem interviews during the course.
Are there opportunities to engage with other entrepreneurs?
Definitely! You can engage with other learners through our Slack channel as well as through regularly scheduled Zoom calls. Exchange ideas, ask questions, gain feedback or simply get to know one another.
How do I register for CDI?
Register for CDI via the "I want to enroll" button above.
Make sure to include an email address that you check regularly. Email will be our primary mode of communication with you throughout the course.
You'll receive an email with instructions on accessing our online learning platform by March 12, 2018.
More questions? Email our team.
---
Upcoming course schedule
| | |
| --- | --- |
| March 12 | Week 1: CDI begins |
| March 13 | Live session – Introductions |
| March 15 | Live session – Targeting your customer |
| March 19 | Week 2: Customer development |
| March 22 | Live session – Using the Customer Development method |
| March 26 | Week 3: Conducting effective interviews |
| March 27 | Ask Me Anything – Draft script and customer interview techniques |
| April 2 | Week 4: Analyzing customer interview data |
| April 4 | Live session – Translating primary research data |
| April 9 | Week 5: Crafting your value proposition |
| April 10 | Live session – Writing a value proposition |
| April 12 | Live session – Conclusion and mentorship |
Supported by the Business Acceleration Program.
Sign up for our Startup Resources & Events newsletter